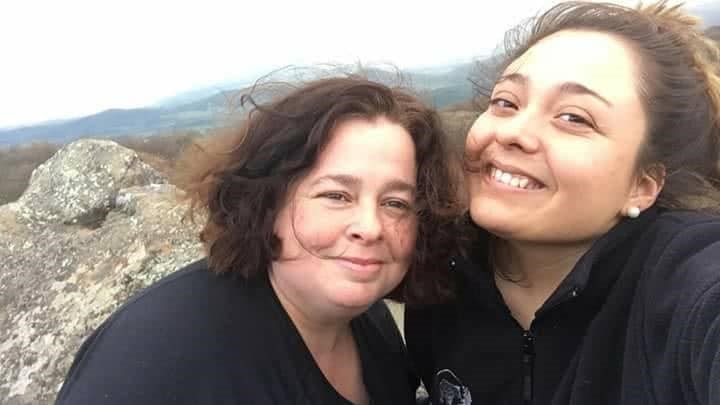 For Kristine Villatoro, hiking has helped assuage her grief and put her on the path of a new career.
Villatoro had been a hiker for most of her life, having grown up camping with her family. But with three kids and a long commute from Front Royal to Northern Virginia for her job as a civil rights consultant to the Virginia Department of Transportation, the pastime had fallen by the wayside.
That changed in 2015 when Villatoro lost her father to cancer.
"A way for me to kind of heal from his death and help me through the grieving process was photography," she said.
She took her nice new camera to Sky Meadows State Park. This became a daily habit.
"I noticed that I really enjoyed being outdoors," Villatoro said. "That kind of led me to put down the nice big camera and pick up hiking poles."
She expanded her mostly solo hikes to Shenandoah River State Park and Shenandoah National Park. Villatoro even started a women's hiking group on Facebook.
"I found out I really knew what I was doing and really enjoyed it," she said.
In February 2019, Villatoro was left devastated when one of her three children, her 23-year-old daughter Anna, was killed when a drugged driver crashed into her vehicle.
"They always say that the hiking community is one big community, a trail family," Villatoro said. "I found out that was definitely true. My hiking community stood behind me."
While the loss of her daughter is something she struggles with "every day," the hiking community has helped her move forward.
"I gradually went back into the woods and soon was able to get to those trails that would help me soften the grief," Villatoro wrote in the Potomac Appalachian Trail Club newsletter. "The trail heals…Like the trails I hike, my grief journey has changing elevations and winding terrain. Some days the trails are easy, and other days they are like never-ending roller coasters…"
She volunteers as the trail club's supervisor of outreach and is president of its Blue Ridge Chapter.
Villatoro's involvement in the trail club led her to decide to once again pursue an education involving the great outdoors. Three decades ago, she had taken an introduction to recreation at Northern Virginia Community College, thinking she would become a park ranger.
"I find it interesting that I kind of came full circle to where I started 30 years ago," she said.
In fall 2020, Villatoro began taking classes part-time to pursue her associate degree in general education with a specialization in recreation and outdoor leadership. Her goal is to transfer to a four-year university and work in outdoor therapy.
Villatoro sees herself incorporating nature with healing as she helps those dealing with grief, trauma and PTSD.
She has been enjoying her classes at Laurel Ridge.
"They're small, and Stacey Ellis (assistant professor of health, physical education and recreation) is such a great professor," Villatoro said. "She's so enthusiastic. It's a very intimate program."
She continues to promote the outdoors, especially to women and to people of all abilities.
"No matter who you are, or where you are in your outdoor adventures, there's something out there for everybody," Villatoro said. "You don't have to be hiking 20 miles, 10 miles to be considered a hiker. If you can only hike a mile, be proud of that one mile. If you're out there enjoying yourself, that's what counts. You're out there doing what you can."
Learn more about Laurel Ridge's recreation and outdoor leadership program – it also includes a path to a career studies certificate – at laurelridge.edu/recreation.
Laurel Ridge Community College was known as Lord Fairfax Community College until June 2022. For consistency purposes, the college will be referenced as Laurel Ridge going forward.