For Immediate Release:
June 4, 2020
Primary Media Contact:
Sally Voth
Public Relations Specialist
[email protected]
Phone: 540-868-7134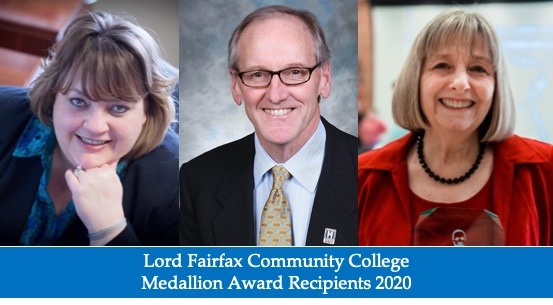 Laurel Ridge is recognizing three College Board Medallion of Recognition recipients for 2020.
Each year, the College Board presents the award to individuals who have contributed to the college's mission. The college recognizes their leadership, scholarship and service.
This year, the college is recognizing:
Navy Federal Credit Union Senior Vice President of Winchester Operations Susan Brooks, who has been a strong supporter of the college's partnership with Navy Federal. Laurel Ridge offers two career  studies certificates in general business
and supervision to employees. Classes are taught on site at NFCU, and many employees decide to continue to pursue their associate degree at Laurel Ridge.
Brooks serves as the lead during site visits at NFCU by the Southern Association of Colleges and Schools Commission on Colleges as part of Laurel Ridge's re-accreditation process. She also serves on the boards of directors of United Way Northern Shenandoah Valley and Top of Virginia Regional Chamber, as well as on the Shenandoah University Harry F. Byrd Jr. School of Business Board of Advisors.
Valley Health System President and CEO Mark Merrill, whose leadership, support and partnership led to many more students being introduced to the health field. The Valley Health Partnership brought together Laurel Ridge, SU, and regional K-12 systems in streamlining academic pathways for health professions.
Merrill also encouraged Laurel Ridge and SU to come together on a degree program to credential more high school teachers so dual-enrollment anatomy and physiology programs could be offered. He received the Virginia Hospital and Healthcare Association Award of Excellence in 2015, is chairman of the association's board of directors and sits on its executive committee, and is involved in a variety of charitable and civic organizations.
Retired Laurel Ridge English and Speech Professor Andrea Ludwick dedicated her 45-year career to the students and staff at Laurel Ridge – teaching nearly 7,000 students in all. She was known for her unconditional acceptance, relentless encouragement, positivity and compassion for all, and received the Laurel Ridge Distinguished Faculty Award in 1996.
Ludwick created the college's forensics (competitive speech, drama and debate team) and was the faculty advisor for the Fine and Performing Arts Student Club. She is responsible for the college's dinner theater and fall play series and for starting the Fairfax Follies, which showcase the talents of students and local community residents, and for creating the annual Walking King's Talk Celebration and Award Ceremony in honor of Dr. Martin Luther King Jr. When she retired in 2019, a performing arts fund was established in her honor.
Pictured left to right:  Susan Brooks, Mark Merrill, Andrea Ludwick
*************************
Founded in 1970, Laurel Ridge Community College is a multi-campus public institution of higher education. With four locations — Middletown, Warrenton, Luray-Page County and most recently, Vint Hill— the College serves eight localities in the Shenandoah Valley and northern Piedmont regions. The localities are the counties of Clarke, Fauquier, Frederick, Page, Rappahannock, Shenandoah and Warren and the city of Winchester. Laurel Ridge offers more than 75 associate degree and certificate programs in a wide variety of disciplines, in addition to providing access to bachelor's, master's and doctoral degree programs offered on site by a four-year institution. Laurel Ridge also serves the business community by offering workforce preparation programs for employees and employers. Laurel Ridge serves more than 9,000 unduplicated credit students and more than 11,000 individuals in professional development and business and industry courses annually.
Laurel Ridge Community College (Laurel Ridge) is accredited by the Commission on Colleges of the Southern Association of Colleges and Schools to award associate degrees. Contact the Commission on Colleges at 1866 Southern Lane, Decatur, Georgia 30033-4097 or call 404-679-4500 for questions about the accreditation of Laurel Ridge Community College. Laurel Ridge Community College is an equal opportunity institution providing educational and employment opportunities, programs, services, and activities and does not discriminate on the basis of race, color, sex, age, religion, disability, national origin, marital status, political affiliation, sexual orientation, or other non-merit factors. Laurel Ridge also prohibits sexual misconduct including sexual violence or harassment.
Laurel Ridge Community College was known as Lord Fairfax Community College until June 2022. For consistency purposes, the college will be referenced as Laurel Ridge going forward.
###