For Immediate Release:
June 6, 2017
Primary Media Contact:
Sally Voth
Public Relations Specialist
[email protected]
Phone: 540-868-7134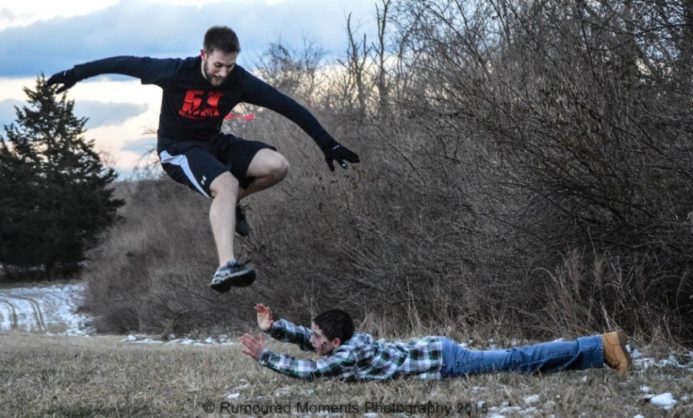 The Saturday, June 17 Outbreak 5K will give participants the chance to run as if they're being chased by brain-eating zombies scattered around Laurel Ridge's Middletown Campus. Actually, zombies will be staggering after both runners and walkers in the third-annual 5K benefitting the W. Michael Larrick Memorial Scholarship Fund.
The scholarship is awarded to a full-time Laurel Ridge student who has lost a parent or primary guardian. It was set up three years ago by Britney Larrick Hammond and her brother Michael Larrick in memory of their father, W. Michael (Mike) Larrick, who died in 2004 in a work-related accident. The first $1,000 scholarship was awarded this past academic year.
"Both of us were running a lot of 5Ks there for a while," Hammond said of herself and her brother. "He had done a zombie run and immediately loved it. He knew that there weren't many around here, and he wanted our event to stand out. He thought that was kind of a fun idea and ran with it from there." 
This year's race is made all the more poignant by her brother Michael's death in a March 22 car crash.
"We instantly said we wanted to continue this," his widow, Elizabeth Larrick said. "Participants are helping us to continue Michael's dream."
Runners pay a $35 fee if they register in advance, and $40 if they register the day of the 5K, which also includes some obstacles, such as hay bales, mud pits and a rope scramble. Walking is fine, and any obstacles may be skipped.
Those wishing to play the role of zombie do so for free. All ages are welcome. Hammond asked that any zombie wannabes register ahead of time because there is a 50-person limit.
To pre-register, go to www.outbreak5k.com. Zombies are asked to arrive by 8:30 a.m. for make-up, and runners/walkers by 9:30 a.m. The first wave of runners will leave at 9:45 a.m.
*************************
Founded in 1970, Laurel Ridge Community College is a multi-campus public institution of higher education. With four locations — Middletown, Warrenton, Luray-Page County and most recently, Vint Hill— the College serves eight localities in the Shenandoah Valley and northern Piedmont regions. The localities are the counties of Clarke, Fauquier, Frederick, Page, Rappahannock, Shenandoah and Warren and the city of Winchester. Laurel Ridge offers more than 75 associate degree and certificate programs in a wide variety of disciplines, in addition to providing access to bachelor's, master's and doctoral degree programs offered on site by a four-year institution. Laurel Ridge also serves the business community by offering workforce preparation programs for employees and employers. Laurel Ridge serves more than 9,000 unduplicated credit students and more than 11,000 individuals in professional development and business and industry courses annually.
Laurel Ridge Community College (Laurel Ridge) is accredited by the Commission on Colleges of the Southern Association of Colleges and Schools to award associate degrees. Contact the Commission on Colleges at 1866 Southern Lane, Decatur, Georgia 30033-4097 or call 404-679-4500 for questions about the accreditation of Laurel Ridge Community College. Laurel Ridge Community College is an equal opportunity institution providing educational and employment opportunities, programs, services, and activities and does not discriminate on the basis of race, color, sex, age, religion, disability, national origin, marital status, political affiliation, sexual orientation, or other non-merit factors. Laurel Ridge also prohibits sexual misconduct including sexual violence or harassment.
Laurel Ridge Community College was known as Lord Fairfax Community College until June 2022. For consistency purposes, the college will be referenced as Laurel Ridge going forward.
###