For Immediate Release:
May 24, 2022
Primary Media Contact:
Sally Voth
Public Relations Specialist
[email protected]
Phone: 540-868-7134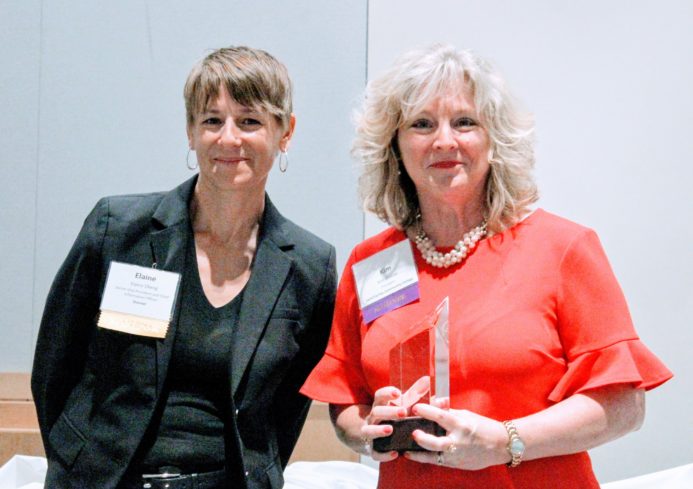 Laurel Ridge President Kim Blosser's student-focused and technology-driven leadership style has been recognized by the Shenandoah Valley Technology Council, which recently presented her with the Glo Fiber Enterprise's Dr. Noftsinger Leadership award. She was presented with the award, given to a leader who has served as a catalyst for positive technology-related activity, during the council's TechNite22.
"As president of Laurel Ridge, Dr. Blosser's vision is that every student, without exception, will have the resources and support they need to succeed and reach their goals," noted President Blosser's nomination. "Meeting the needs of the single parent, foster youth, or first-generation college student is what motivates her to work every day to ensure Laurel Ridge is open, welcoming, and supportive of the students who need community college the most…Laurel Ridge is seen as a leader in the area for workforce development, and Dr. Blosser and Laurel Ridge regularly partner with the Workforce Investment Board, GOVirginia, the Shenandoah Valley Partnership, the Regional Commission, and others to ensure the local business community has the needed workforce."
Technology has been one of the passions driving Dr. Blosser's career. Her first college-level job was as an adjunct faculty member at Blue Ridge Community College teaching technology classes to public school teachers who were getting classroom computers for the first time. She then became a full-time IT faculty member, and later the chief information officer, which entailed leading IT planning and budgets, managing strategic IT initiatives and overseeing technology purchases, among her other responsibilities.
As president of Laurel Ridge, Dr. Blosser has prioritized giving students the option to learn online – in many cases, students can earn their degree entirely online – has expanded the IT department, and has invested in the technology that allows for students and faculty to have more interaction.
The award was presented by Shentel Senior Vice President and Chief Information Officer Elaine Cheng, who is a founding board member of Charlottesville Women in Tech, and who delivered the TechNite22 keynote speech exploring how to engage, recruit and develop women in technology and how that will determine success.
"What an honor to receive this award – and to have it presented by Elaine Cheng, someone everyone in IT, but especially women, can look up to. Shentel has been such an asset to Laurel Ridge for so many years. For instance, it was thanks to Shentel's fiber-optic system that we were first able to offer distance learning classes nearly 30 years ago. Today, the possibilities seem endless.
"Now more than ever, our students rely on technology as they chase their goals. Who would have thought just a few years ago that we would be teaching our students to fly and maintain drones, or that our technology students would have the chance to join the U.S. Cyber Command's (CYBERCOM) Academic Engagement Network, allowing CYBERCOM to meet future workforce needs as it defends our nation and individuals from cybersecurity threats."
In addition to Dr. Blosser, Laurel Ridge Workforce Solutions and Continuing Education was nominated for the Innovation in Higher Education Award. The nomination cited how Laurel Ridge's IT program pathways allow students to earn stackable credentials as they begin IT careers, and the extensive work done by program leaders in collaboration with area employers to build pathways in the local workforce.
*************************
Founded in 1970, Laurel Ridge Community College is a multi-campus public institution of higher education. With four locations — Middletown, Warrenton, Luray-Page County and most recently, Vint Hill— the College serves eight localities in the Shenandoah Valley and northern Piedmont regions. The localities are the counties of Clarke, Fauquier, Frederick, Page, Rappahannock, Shenandoah and Warren and the city of Winchester. Laurel Ridge offers more than 75 associate degree and certificate programs in a wide variety of disciplines, in addition to providing access to bachelor's, master's and doctoral degree programs offered on site by a four-year institution. Laurel Ridge also serves the business community by offering workforce preparation programs for employees and employers. Laurel Ridge serves more than 9,000 unduplicated credit students and more than 11,000 individuals in professional development and business and industry courses annually.
Laurel Ridge Community College (Laurel Ridge) is accredited by the Commission on Colleges of the Southern Association of Colleges and Schools to award associate degrees. Contact the Commission on Colleges at 1866 Southern Lane, Decatur, Georgia 30033-4097 or call 404-679-4500 for questions about the accreditation of Laurel Ridge Community College. Laurel Ridge Community College is an equal opportunity institution providing educational and employment opportunities, programs, services, and activities and does not discriminate on the basis of race, color, sex, age, religion, disability, national origin, marital status, political affiliation, sexual orientation, or other non-merit factors. Laurel Ridge also prohibits sexual misconduct including sexual violence or harassment.
Laurel Ridge Community College was known as Lord Fairfax Community College until June 2022. For consistency purposes, the college will be referenced as Laurel Ridge going forward.
###